Simple, Do-It-Yourself, Bolt-Together Construction
Step #1
POUR A SIMPLE FLOATING FOUNDATION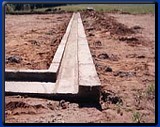 Step #2
BOLT THE ARCHES TOGETHER ON THE GROUND
The arches are precision made to fit perfectly. They easily overlap to allow for fast, accurate assembly without the help of special tools or equipment.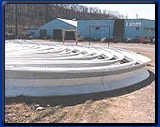 Step #3
RAISE THE ARCHES INTO PLACE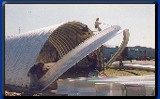 Step #4
Install the endwalls and doors
The endwalls of our prefab steel buildings are constructed of pre-cut, pre-drilled endwall panels which are easy to install. Weather strip and heavy-duty curved angles that guarantee a custom fit.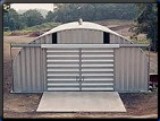 The metal building construction and erection of your American Steel Span Building is safe and simple. Approximately 75% of all your work is done on the ground. The beauty of this is that you can save thousands of dollars by erecting the building yourself with the assistance of a few friends.
Surplus Inventory CLEARANCE SALE

Sample of Available Buildings

Make an offer - No reasonable offer refused!

Model P20-12

20'W x 12'H x 25'L Front endwall with 10'W x 8'H framed opening

Rear Endwall solid (both endwalls Lightstone with polar white trim)

Arches and Endwalls have Florida Product Approval

Mfg. Suggested Selling Price: $8,894.00 US

*Doors are additional

Model 25'W x 14'H x 40'L Full Color Lightstone

(19) Arches (1) Solid Rear Endwall

(1) Trim Kit Polar White

Mfg. Suggested Selling Price: $10,650.00 US

*Doors and Front endwall are additional

Call for price and availabilty of other models currently in the clearnace inventory. Supply is Limited!